*Cancel your Subscription anytime after 3 orders*
Product Quantity: 4 oz (lasts 4-8 weeks)
The Renewing Hair Elixir is designed to bring out your best hair. Using 100% organic ingredients from the highest quality sources, your hair will undergo a complete transformation with continued use. The Renewing Hair Elixir has shown tremendous benefit in the following areas:
Stops hair loss in it's tracks, whether it be from hormonal, chemical, and physical reasons
Promotes healthy and continuous hair growth and length retention
Strengthens hair strands from the inside out to diminish breakage
Hydrates the hair to withstand daily wear and tear
Revitalizes and protects the scalp from irritation, dryness, and inflammation
Our Renewing Hair Elixir is heavy enough to cause a great difference in the health of your hair, but light enough not to weigh down your strands after daily use. This formula was created and tested by our founding physician, is 100% organic, and has never been tested on animals.
Vitamin C, Amla (Indian Gooseberry), Lavender, Shikakai (Acacia Concinna), Neem, Cedarwood, Bhringraj (Eclipta Alba), Rosemary, Brahmi (Gotu Kota), Sweet Almond Oil, Eclipta Erecta, Grapeseed Oil, Musk Root, Olive Oil, Avocado Oil, Essential Oil Blend
 No Parabens, Phthalates, Mineral Oil, or Synthetic Fragrances
**Avoid use of our products if you have an allergy to any of the listed ingredients. We suggest a skin sensitivity test be performed prior to use as products may be made in close proximity to other ingredients. Some herbs and essential oils should be avoided during pregnancy and other conditions. Please check with your physician prior to use**
Orders placed before 2 pm CST ship SAME DAY. **Incorrect shipping information will incur delays or inappropriate shipping, which will be additional cost on the customer. Domestic orders are usually delivered in 5-7 business days (excludes weekends and holidays). International orders are usually delivered in 7 - 15 business days (excludes weekends and holidays. All Sales are Final and non-refundable. If product arrives damaged or broken, please contact support@renewedhairco.com for replacement. *Once your item ships we have no control over how long the carrier takes to get it to you. If there is ever a problem with the delivery/arrival of your package, please contact the carrier directly. All orders are shipped via DHL or USPS. *
Customer Reviews
SN
08/03/2020
Syllia N.
United States
Hair Elixier works wonders!
The Renewing Hair Elixir is great! I have been using it since December 2019. I recently bought 2 bundles. My hair is longer, thicker, softer and silky. I damaged my hair in 2017 and have been trying to grow it since. I've seen a lot of improvements now that I have been using the Hair Elixir. Just told my mom and cousin about it.
08/01/2020
Erika W.
United States
Great Product!
I have CCCA alopecia and began using Renewed in October 2019. I have seen a significant change in my scalp since that time. It used to be hypopigmented and shiny from the alopecia scars. However, now those spots are the same color as the rest of my scalp and hair has begun to grow. It has also changed the texture of my scalp as it is no longer slick and leathery but soft to the touch as the rest of my head. I am PLEASED with the results so far!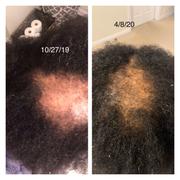 07/31/2020
Anonymous
United States
Come thru hair follicles
I'd say I've used this product for about a month on my mom and grandmothers hair and can definitely see a difference. Their hair has become thicker where it seemed it was thinning in some areas. Really happy about their results with Renewed Hair.
07/25/2020
Tonya M.
United States
Lovin My Renewed Hair
I've been using Renewed Hair Oil and I absolutely LOVE it! I could see a difference in my over all hair texture after using it after a few days. I would definitely recommend trying this product ladies, you can thank me later.
07/19/2020
Anonymous
United States
Love the product
So far I am seeing progress. I will wait a little while longer before taking pictures. I love how it leave my hair feeling soft and manageable to comb.
---